SW
October 12, 2020
WILDE NEWS
3 Metallic Colour Schemes That Can Lift Any Room
Metallics and interiors were made to work together. Far from a fleeting trend, the incorporation of metallics with classic interior colour schemes is a future-proof design choice that can transform any room. Whether you're looking to create a sleek, modern masterpiece or a warm, traditional glow, the simple pairing of metallics with certain colours can help you achieve the perfect look and feel.
Need a glimmer of inspiration? In this blog, we'll take a look at some of our favourite metallic colour combinations to spark some ideas for your next project. 
Meet the Metals
Before we jump into the combos, let's look at some of the most popular metallics that have earned their rightful place among our interiors. There was a time when most of us simply chose between gold or silver/chrome for things like fixtures and light fittings. However, the rising popularity of metallic interiors has brought with it a multitude of glimmering new options.
Warm Metallics
Warm metal hues are perfect for adding a cosy glow as well as a touch of traditional glamour. The most popular warm metals include:
Copper
Easily the most popular metal right now, copper is warmly toned and typically has a high-shine finish. It can be used to create both modern and traditional interior aesthetics, depending on how it is introduced.
Bronze
Rich and solid, bronze has been used in interior decoration for centuries. Bronze typically has a duller finish than other warm metals, but this makes it ideal for adding subtle, understated glamour.
Brass
With a gleaming finish and sunny yellow tone, brass is becoming ever more popular in home decor. This is thanks to its versatility and easy-to-pair, warm metallic tone. 
Gold
Last but not least, gold tones are still highly popular and work beautifully with a range of colour schemes. A touch of gold is ideal for creating rich, opulent aesthetics.
Cool Metallics
Cool-toned metals are traditionally used to create contemporary aesthetics in interior design. However, with the right colour pairing and implementation, they can be used to create a wide variety of effects. 
Chrome
Chromic accents provide a sparkly, highly-contemporary aesthetic that makes it ideal for those who love a clean, minimalist feel for their interiors. Versatile and durable, this metal is easy to pair with a wide range of colours.
Silver
Rich, mellow and sophisticated, classic silver tones have long been a popular choice for interior accents. With a more muted finish than chrome, it brings a much more subtle shimmer to a decor colour scheme.
Pewter
Like silver, pewter brings a muted elegance and sophistication to an interior colour scheme. Darker than most other cool metallic shades, pewter can actually add subtle warmth to a room. 
Nickel
More muted than chrome but more polished than silver, nickel is the perfect middle ground. This underrated metallic hue is ideal for those looking to add cool metallic accents to a room without too much dazzle.
Iron
Dark and dramatic, cast iron accents can be used to introduce a chic, industrial old-world charm to modern interiors. With its dark grey-black hue and rough texture, iron adds visual colour contrast and textural depth to interiors.
Now we've familiarised ourselves with the many beautiful metal hues we have at our disposal, let's dive into some colour schemes. Here are three of the most harmonising, dramatic and elegant metal-colour combinations that we've fallen in love with:
1. Navy Blue & Copper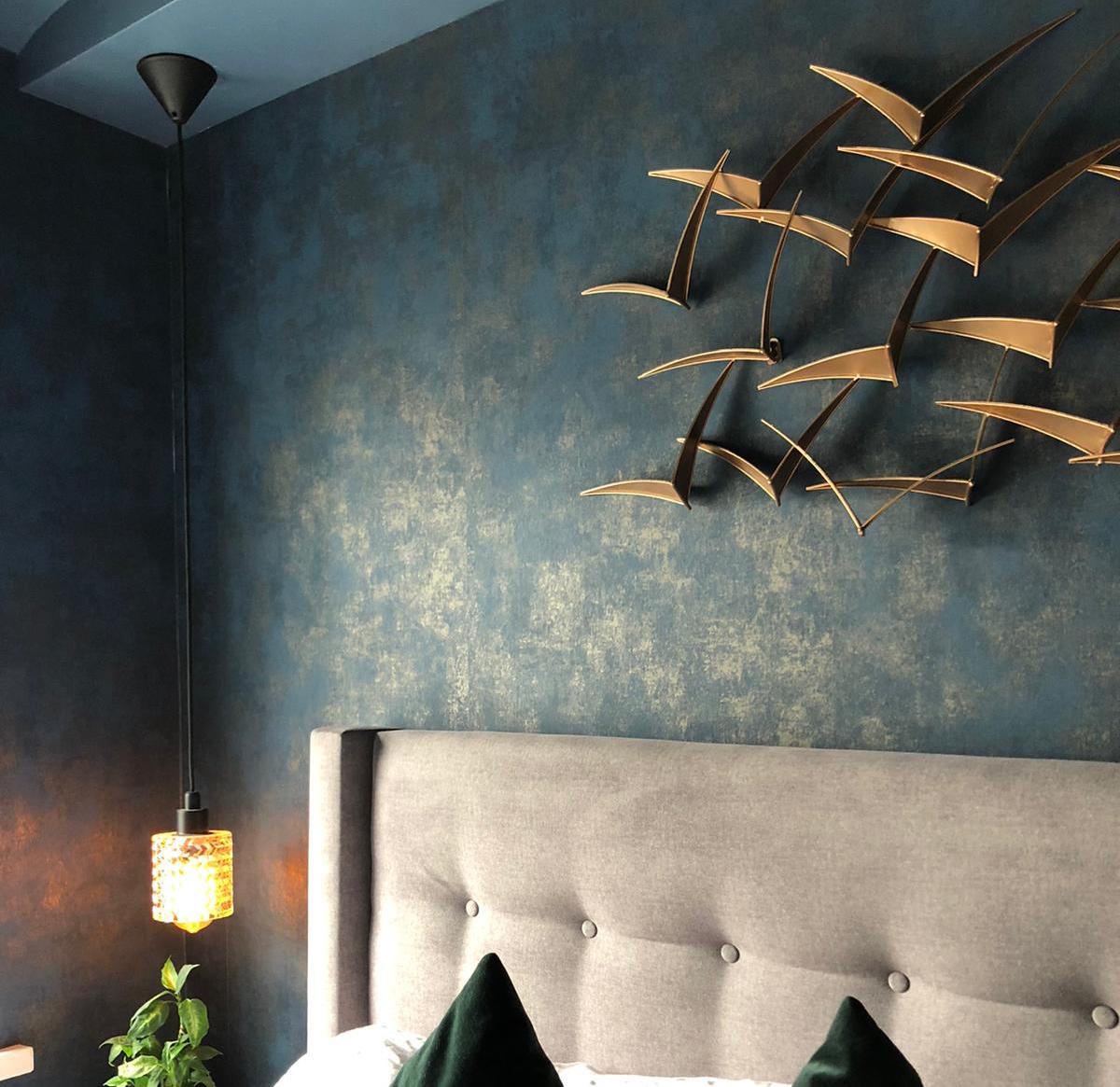 Copper works beautifully when set against deep, moody colour backdrops, and navy blue fits the bill perfectly. By far one of our favourite metallic colour combinations, navy and copper create a rich, elegant and contemporary feel. Despite being on the cooler colour spectrum, certain shades of navy can actually create a sense of warmth. And when you layer gleaming accents of rich copper over the top, it really starts to feel cosy.
For bedrooms and living spaces, try mounting copper-framed mirrors,  light fittings or wall art on navy walls. This will break up the darker colour and enhance reflective surfaces. For kitchens and bathrooms, you can use functional items such as copper pans or a statement copper-coloured bathtub to add the metallic element. You can then introduce the navy blue elements with textiles, tiling or surfaces.
2. Chrome & White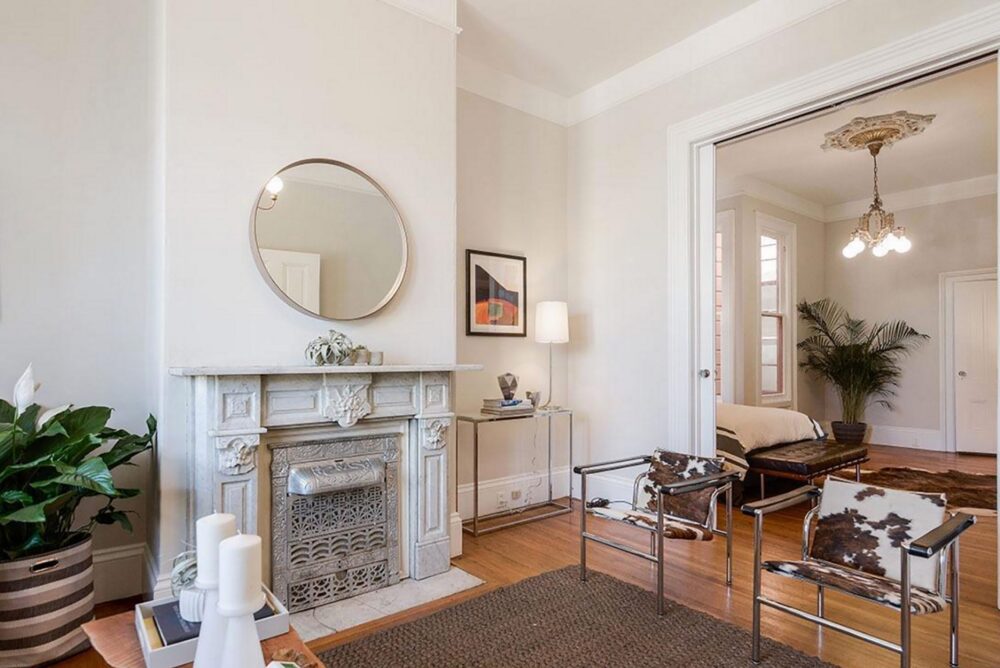 From the warm and traditional to the sleek and modern, cool metallics like chrome and nickel work beautifully with the clean, fresh aesthetic of white colour schemes. 
One of the best ways to achieve a harmonious chrome and white colour scheme is to use various shades of white and off-white across the larger surfaces like walls, fireplaces, doors or even the floors. Using these as a base, you then drop in the chromic accents using furniture, lighting and accessories. With chrome being such a high-shine, standout metallic, it's best applied in small doses. You could even mix it with other similar, more muted cool metallics such as nickel or pewter. This will create more depth and add a variety of metallic textures to the room. 
3. Taupe & Gold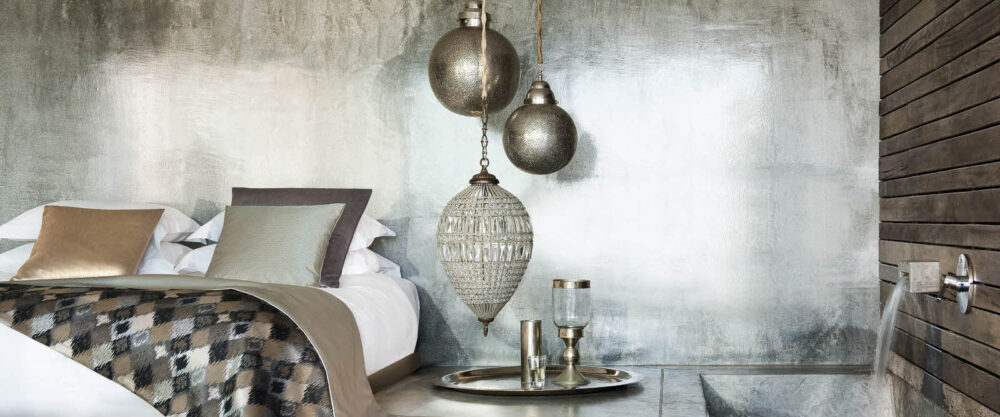 Another of our favourite metallic colour combinations right now is taupe and gold. The grey-brown hue of taupe provides a beautiful, neutral base colour over which you can layer both cool and warm metallics, but we especially love the additional warmth that gold brings to the colour mix.  
Metallic textiles such as bedding and cushions provide the perfect vehicles for introducing gold tones and shiny textures, or you could use gold metallic wallpapers to create a bold feature wall. Additional gold accents can be introduced with lighting and decorative accessories, which works especially well when you use various different gold shades and textures. The resulting effect is one of lustrous warmth while maintaining a sophisticated subtlety thanks to the calming tone of the taupe.
If you're thinking of trying a metallic colour scheme in your home but you're not quite sure where to start or how best to introduce it, you've come to the right people. We can guide you through every step of the process and take care of everything from ideas and decorating to sourcing all kinds of metallic treasures from lighting to accessories and furniture to complete the look. Book a discovery call with us and tell us what you're thinking, and we'll help you with the rest.